Another sunny day – this has been the most wonderful summer and although the days are getting shorter and the mornings cooler it is clear and warm.
We set off slowly up the hill towards the old deer park which is now mainly used for sheep grazing but attracts wild fallow deer which can be seen usually in the early morning or at night. It was originally a deer park for Fawley Court – an imposing property on the banks of the Thames and provided venison for the house.
The route up the hill is a bridleway with a level tarmac surface, and taking it slowly, everyone is soon at the entrance to the park ready to witness some wonderful views in the clear morning light.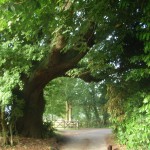 Just before the gate we stop and gaze at an impressive oak tree with a massive trunk and branches.  Where it crosses the bridleway it has been damaged by high sided lorries making deliveries to the houses above. It is no longer in the best of health but makes a wonderful sight while it is still standing.
As you pass through the gate there is another massive tree – this time a cedar. Parkland often mixes native and non native trees – placed as specimen trees, they are allowed to grow to their natural shape, with no competition from neighbours.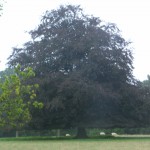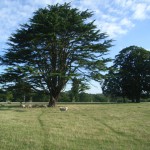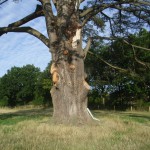 The path now becomes a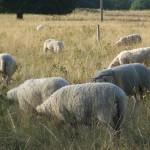 level track as it crosses the park towards Henley on Thames forming part of the Oxfordshire Way. We are truly on top of the world surrounded by grazing sheep who seem undeterred by our presence, being used to passing walkers. We are heading past newly planted trees – planted by the current owners to represent the Swiss and Australian flags.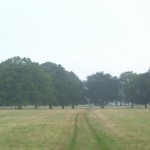 Further on there is an historic group of oaks planted in formation to represent the Maltese Cross and I can only imagine that this gave them the idea of leaving their mark on the landscape.
It will be a number of years before the trees will grow to become an obvious representation but their presence will long outlive those that instigated their planting which is presumably the intended purpose.