The unseasonally warm conditions have meant lovely walks among autumn colours with the grass continuing to look lush and green and flowers blooming. Today we walked through Fawley Hill where a new born alpaca cria was sunning itself – it could have been a very different world that this baby had entered if it had been born in last year's storms.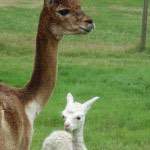 Alpacas have a long gestation period of approximately 11 and a half months and are induced ovulators so  can breed at any time of year. Most owners try to ensure births occur in the spring and summer when food is more plentiful and warm weather helps the new borns. Alongside the alpacas were deer of all descriptions some native and some from further afield, emus, wallabies and all sorts of other creatures which kept the Nordic walkers entertained.
The walk took us along the Oxfordshire way, wending our way through the Chilterns, past beautiful buildings and along the Fawley ridge following which 16 of us enjoyed a delicious lunch enjoying the view and the company and planning the weekend.