Walking the Oxfordshire way in Spring definitely has a lot more to recommend it than a damp February!
The sun was shining and the terrain provided easy walking.
We set off from Stonesfield down towards the bathing pool and then across the fields towards Blenheim.
The route takes you across a common with ancient hedgerows and steep hillsides and on to Akeman Street with views over the Evenlode valley. Eventually we came to Stonesfield steps – a high wooden 'stile' over the stone wall surrounding Blenheim estate.

Once in the park we deviated off the Oxfordshire Way on a footpath leading up towards the Palace along an avenue of trees which provided welcome shade for the, by now, strong sunshine. It led us to the monument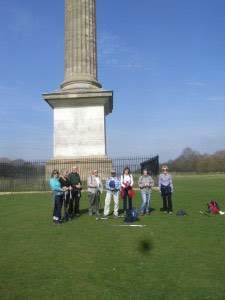 Then it was a walk down towards the lake and through a door in to Woodstock. We had a very good lunch at Hampers deli and cafe with a menu that seemed to suit everyone and provided the opportunity for a rest.
Back towards the Oxfordshire way, the detour had added about 2.5 miles, we headed off over the river Glyme and towards Kirtlington once again.
There are numerous footbridges along this stretch of the route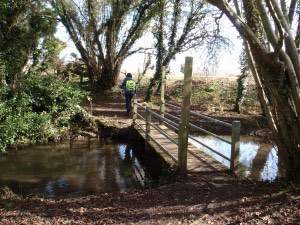 You pass a beautiful watermill on the way to Pigeons lock on the Oxford canal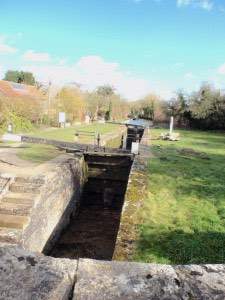 and then it was the long lane up to Kirtlington where we had left some cars in the morning.