For some reason I was persuaded by my good friend Klaus to participate in this event in the beautiful Karwendel mountains – he assured me that should I change my mind it would be easy to sell my place which was true but I am sure that he knew that would not happen once I had committed.
The added incentive was walking in aid of the TVAA for which to date we have raised over £600 with this walk  https://www.tvairambulance.org.uk/
I trained in the wonderful Chiltern Hills which proved to be a suitable training ground. With some trepidation I flew off to Innsbruck and was met by Gillian at the airport – I am always grateful for this as, not being a particularly seasoned traveller, it is a reassuring to see that familiar face on arrival and be shepherded through the bus and train options. from then on I was thoroughly spoiled with wonderful food and staying with Gillian and Klaus whose flat must have one of the best views in the world.
The weather was glorious and Klaus had arranged some nice training walks which the 3 of us could do and reward ourselves with cake!
The day of the challenge dawned – a 4.30am rise and a taxi to the start – still dark and thousands of people making their way there. All very cheerful and getting ready for the off. The runners start first on their 52km journey as the sun was beginning to rise, followed by us and our fellow walkers.
Most were using trekking poles or no poles and so I spent much of my time spotting fellow Nordic Walkers. The poles proved to be a great help.
I was amazed when we came to the first refreshment stop – 10kms in and it felt as though we had just started! The sun rose and it started to become lovely and warm but not yet too hot. I was not chatting nearly as much as usual as most were speaking German and my language skills are not very good.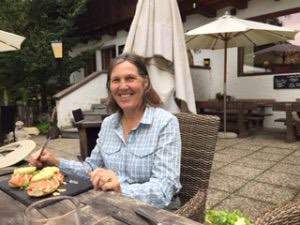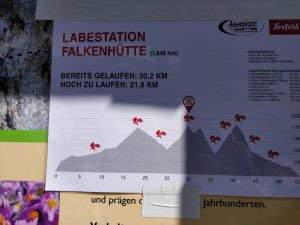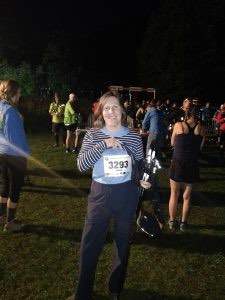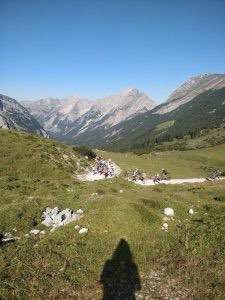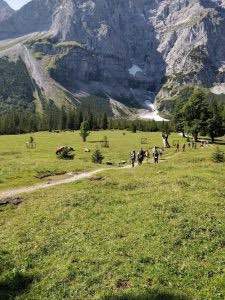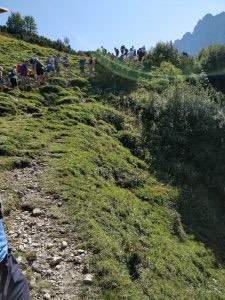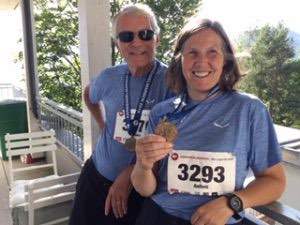 The views were spectacular – along valleys and over mountain ridges, venturing above the snow line it really was very beautiful and the air so fresh.
Farmers provide all sorts of refreshments along the way – herbal teas, water, cheese and meats, home made biscuits and plenty of fruit – it was such a pleasure not to be carrying everything with you.
The only parts that were less enjoyable were the long descent – 5kms of a mixture of scree running and rock hopping and then the very long bus journey back to the start.
I am so pleased to have participated and look forward to going back to Seefeld next summer. A Foot in the Chilterns Nordic Walkers are once again staying at
Hotel Charlotte https://www.hotel-charlotte.com/